Are wetsuits permitted for the swim?
Wetsuits are encouraged. They help with your flotation and keep you warmer.
How warm is the water?
The water was 24C (76F) at the 2007 triathlon. Water temperature is very dependent on the weather in June.
Do you supply bathing caps?
No, you will have to supply your own bathing cap.
How long does it take to complete the triathlon?
The winning times are listed on the results page. Racers take anywhere from these times to about 2:45 to complete the entire course. If you are not a strong swimmer, consider the duathlon where you run/bike/run. Many people also put together a team of three people and enter the relay where one person swims, another bikes and the third does the run. This a fun race where the emphasis is put on participation.
Is the course hilly?
Check out the course profile on the course page. On the bike course, there are a few hills, but on smooth new pavement. On the bright side, what goes up…
Is the course closed to traffic?
No, the course is not closed to traffic, but the course is also not very busy at that time of morning on a long weekend. We have course marshalls and the OPP helping us to ensure that motorists respect the riders and runners. The OPP also help out on the swim course making sure that boaters do not interfere with the swim.
Are there water stations on the course?
Yes, water is provided at the start of the run course and at the 2km and 6km points on the run.  There is no water station on the bike course. Please make sure you have your own water on the bike and stay hydrated !
Is this an OAT sanctioned event?
No, this is not an Ontario Association of Triathletes event.
What do the t-shirts look like?
2018 t-shirt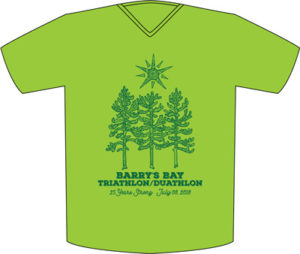 Here are some past examples…